Get statistically valid community input in 48 hours
Hear from the many, not just the noisy few
Introducing FlashVote - the scientific way to survey and engage residents.
We've helped local governments like yours make residents happier, while saving them millions of dollars.
Our short, automated, scientific community surveys give you reliable and actionable data - over 90% faster, easier and cheaper than traditional scientific surveys.
We've made FlashVote the public input solution you've dreamed of:
Professionally drafted questions
Automated emails, texts and phone calls
Multiple language options
Complete results in 48 hours
Statistically valid data
Responses are tagged by street address
Simple interactive reports
Set-it-and-forget-it scheduling
Finally, there is a super easy and inclusive way for governments to connect with their whole community.
Fast, simple and affordable.
Get the data you need, right when you need it for better decisions.
RESIDENTS GET SURVEYS
Participation by email, text or phone call.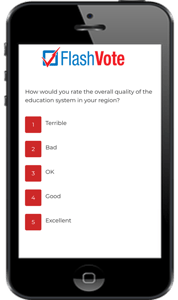 SEE RESULTS IN 48 HOURS
Easy access to full results dashboard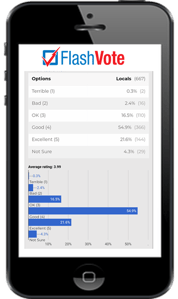 With more representative data from FlashVote, you can improve your important plans and decisions.
This means you will:
Make residents happier
Avoid costly mistakes
Quickly build trust
Stretch your dollars more
We've helped our customers save over $200 million by making better decisions with better data.
Check out these brief FlashVote case studies from:
Nevada
Prevented bad service and saved serious money.
[Watch video above (1:04)]
Massachusetts
D
odged a $30 million mistake by using our survey data.
[Watch video above (1:08)]
California
Helped save $2 million in a budget while building trust.
[Watch video above (1:30)]
We make it effortless and affordable to have the true community input you need, right when you need it
Give us a call: 775-235-2240
Let's talk - - because we can really help you!