FAQ and Virtual Booth Visit
This page answers common questions about FlashVote, like the ones we get at our exhibitor booth.
From "What is it? to "How is it different?" to "Why do I need it?" and more, we've got you covered in depth.
You can share this page with colleagues so they can see why governments are so excited about FlashVote. Or just hit the "Contact Us" button and we're happy to give you a quick call or demo.
What is FlashVote?
In 19 words - we get you statistically valid community input in 48 hours, so you can make informed decisions throughout the year.
In 25 seconds, this explanation got spontaneous applause at a conference:
In 53 seconds, this video gives you a full overview of how FlashVote works:
Or in just 7 words from a customer in California, FlashVote is:
"Fast, simple, reliable surveys we can trust"
How is FlashVote different from online survey tools?
The short answer is "completely different". FlashVote is a scientific community survey service. It is a patent-pending system designed from scratch to give decision-quality data to local governments.
You probably know that online survey tools and online engagement give you "unscientific" data. But did you know that means that the data is totally unsafe to use for decisions?
Imagine results that say 85% of the community is in favor of something - when the real answer is only 33%. Yikes!
And that is just one example from one of our customers. Here is the full 70 second case study:
This is a huge and underappreciated problem for local governments across the country.
In just a few years, we've helped our customers avoid over $200 million of bad decisions with better data. This suggests that "free" online surveys are costing cities billions every year.
If you are wondering why online survey data is so unreliable, this 49 second booth interview gives you the answer:
This is why governments pay $20,000 to $50,000 each for scientific surveys and wait months for results. You need good data for good decisions. Especially for important decisions.
Online surveys give you bad data and wrong answers for a discount.
FlashVote makes scientific surveys over 90% faster, easier and cheaper: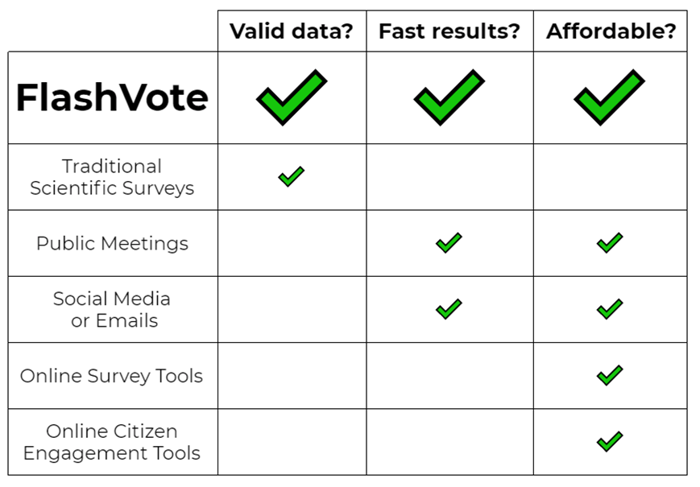 Nothing else gives you statistically valid community input, in 48 hours, at a price you can afford.
FlashVote is also designed to be as easy and inclusive as possible. From multi-channel communications to writing the questions and answer sets for you, we do everything else you want too: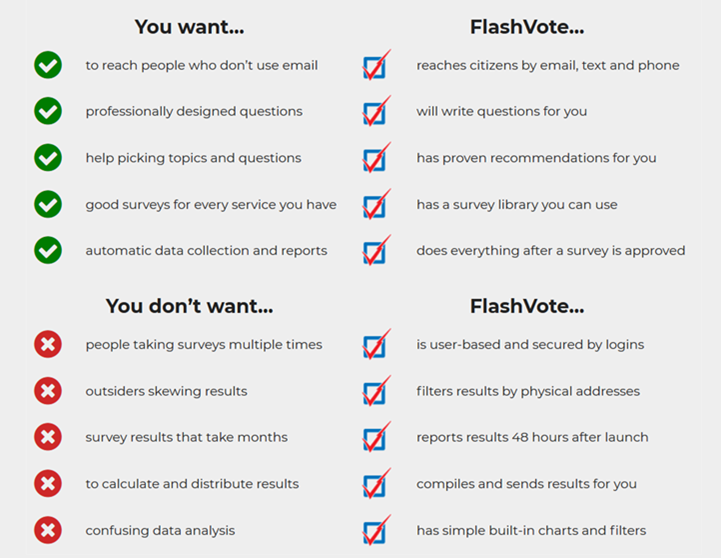 What's wrong with the public input we get now?
What we call "public" input or engagement doesn't involve the public as a whole. It comes from a small number of self-selected people - no matter how engaged your community is.
Unfortunately, the people that choose to engage on a particular topic are the opposite of a representative sample of your community. This means that very typical public input data can set the stage for making very bad decisions for the public.
Our very first FlashVote survey hammered this point home. We discovered a multi-million dollar mistake just in time to avoid it. Here is the 64 second case study:
A few surveys later we saw that online surveys give you really bad data too.
This 77 second case study shows what we learned:
Why do we need community input for decisions?
If you want good decisions, happy residents and successful colleagues, you need true community input. You need to hear from the quiet many, not just the noisy few.
Traditional public input steers you toward bad choices because it is not representative of your whole community. When you only hear the noisy, you can easily make decisions that are a disservice to everyone else.
This is especially challenging for elected officials. This 3 minute animated story shows the problem through their eyes:
Even worse, the problem doesn't go away when you know the input is unrepresentative and should be ignored. Without better data, you can still be manipulated.
One of our founders experienced this first hand as a public official. He found himself getting swayed by noisy voices at meetings, even though he studied statistics in two PhD programs and knew he shouldn't be.
Watch this 2 minute interview clip to hear how one memorable public meeting led to a vision for FlashVote to be "the data in the room when the community isn't":
Will FlashVote work for my agency?
Absolutely. FlashVote is trusted by leading counties, cities, towns and special districts across the country.
We've helped them make great decisions and dodge big mistakes - over $200 million so far - while saving them countless hours of work and grief.
They love FlashVote and their communities love them for using it. Just like yours will.
Do you want to get more bang for your bucks and build amazing trust? Do you want a happier and more engaged community?
Watch this 93 second video to see how we helped one customer do all of those things, then increase their revenues and even win an award:
How do agencies like mine use FlashVote?
We typically help customers with these things:
They want to overcome the noisy few. They have a small number of noisy voices at meetings or online that may influence decisions for the worse.
They need representative community input. They have individuals or groups claiming to speak for the whole community, but they strongly suspect they aren't.
They want to stop using bad data. They have been using data from online surveys/engagement that they know isn't representative enough for decisions.
They wish that good data was affordable. They would love scientific survey data, but they can't spend $20,000 to $50,000 or more each time they need it.
They want to build trust and respect. They feel a lack of trust and respect from the community, usually because of past decisions based on unrepresentative public input.
They want to improve services and morale. They only hear complaints and squeaky wheels instead of measuring true community satisfaction and hearing from their happy majority.
They want to make great decisions. They believe that elected officials could make better choices on issues with nudges from compelling data.
They want to engage more residents. They want a way to connect with the busy majority and those that are harder to reach because of technology or language.
Do any of those sound good to you? If so, we can help you right away.
How much does FlashVote cost?
We've worked hard to give FlashVote the features that make it a no-brainer for local governments of all sizes, including its cost. You can get a whole year of FlashVote scientific surveys for less than the cost of one traditional scientific survey.
Contact us to figure out the best package of community surveys, employee surveys and other options to meet your needs.
OK, I'd like to learn more, how can I do that?
If you'd like a quick call or demo to see how FlashVote can help you, just enter your information here and we'll be in touch soon!